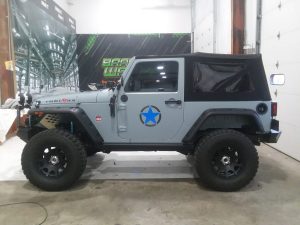 If you have a business, own a company vehicle, or are just interested in all the mystifying quirks of taxes, you may be interested in whether or not vehicle wraps are tax-deductible. That's right: it's tax season. The process can be a huge pain for some, but if you file correctly, you could get a big return for yourself or plenty of deductions for your company. Your vehicle wrap is likely tax-deductible if placed on a business vehicle, although this largely depends on what vehicle you have, which we'll break down in further depth below. Just remember that we're not professionals when it comes to taxes, so always check with whoever files yours!
Work Vehicles
Work vehicles are defined as, well, vehicles that are primarily used for work. As far as a vehicle wrap may go, these are the kinds of vehicles that we most often end up applying graphics to. Because they're work vehicles, they are the most eligible for the full tax deduction benefit. Here's the catch though. As with anything related to taxes, you want to save your receipt in case there's ever auditing and you need to prove what your costs were. Keeping the receipt is important when claiming you deserve a tax deduction!
Personal Vehicles
You may have an advertising wrap applied to a personal vehicle that you also use for work. In this case, the wrap is still tax-deductible, just not in full. Even still, you're going to want to save your receipt, as a portion of your expenses may end up being tax-deductible. In the end, you're going to want to speak to an accountant to figure out just how much of that vehicle wrap can be deducted.
Vehicle Graphics
This might seem like a minor semantics issue but those kinds of issues can really bog you down come tax season. Smaller lettering jobs that you may see on vehicles are also tax-deductible, despite costing much less than more extravagant vehicle wraps. No matter what kind of vehicle graphic you have, it should be tax-deductible. Always save your receipts and always consult with a business tax accountant if you're unsure of whether or not you should be getting a deductible for any vehicle graphics you may have.
Contact Brand It Wrap It Today!
If you are looking for a cool custom way to advertise your business, make sure to check out Brand It, Wrap It, Custom Signs and Vehicle Graphics. We are a full-service sign and wrap company that provides excellent quality signage for businesses both big and small throughout the Maryland, Virginia, and Washington, D.C. metro area. We provide awesome customer service, use the best and latest sign printing technology, and pride ourselves on our attention to detail. To see how we can help your business shine, give us a call at 301-838-9727 or visit us online for an estimate. For more tips and articles like this, follow us on Facebook, Twitter, Pinterest, and Instagram.