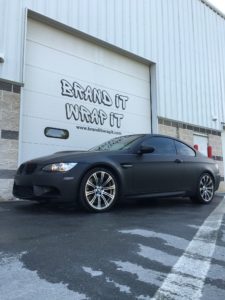 Vehicle wraps are always a great investment, whether you want to advertise your business or you are looking for a color change wrap for your personal vehicle. In addition to protecting your vehicle's paint job, they can give it a whole new look. But when it comes to many options that you have for vehicle wrap designs, one thing many people don't consider is the type of finish. Here are the three most popular choices for the finish on your vehicle wrap. 
Matte
Typically, a glossy finish is the best choice for any vehicle wrap, but the matte finish has been recently growing in popularity. A matte finish is the exact opposite of a glossy one because the purpose of the matte finish is to have no shine at all. For color change wraps, it can give a vehicle an understated and almost velvety look that certainly stands out among the average cars on the road. A matte design is a good choice for vehicle wraps because you won't likely get the same effect through a traditional paint job, and the fact that a vehicle wrap is removable means that you won't be stuck with it if you decide that the matte isn't working for you.
Gloss
Despite the unique intrigue of matte wraps, the gloss finish will always remain the standard. The reason a gloss finish is so popular is that it has the familiar look of a standard paint job. The great thing about gloss vehicle wraps is that your car can always look like new with much less effort than it would take to clean, buff, and wax the same car without the wrap. Gloss vehicle wraps are also ideal for business vehicle wraps. They look the most familiar to customers, and the gloss will help make any company design pop.
Textured
Lastly, the most unusual type of finish is the textured wrap. It is great for a color change wrap because it allows you to explore more expensive looks without the big price tag. For example, a carbon fiber finish is usually reserved for high-end luxury cars. But a textured vehicle wrap lets you copy that carbon-fiber look without having to make such a big purchase. Textured vehicle wraps aren't as common, but they can still be a great option if you want to try something really different.
Contact Brand It Wrap It Today for Your Color Change Wrap!
If you are looking for a cool custom way to decorate your vehicle or advertise your business, make sure to check out Brand It, Wrap It, Custom Signs and Vehicle Graphics. We are a full-service sign and wrap company that provides excellent quality signage for businesses both big and small throughout the Maryland, Virginia, and Washington, D.C. metro area. We provide awesome customer service, use the best and latest sign printing technology, and pride ourselves on our attention to detail. To see how we can help your business shine, give us a call at 301-838-9727 or visit us online for an estimate. For more tips and articles like this, follow us on Facebook, Twitter, Pinterest, and Instagram.