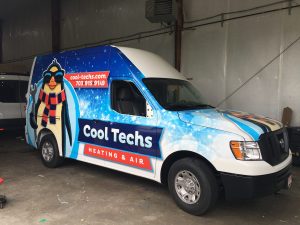 Advertising is a key aspect of the success of your business. And whether that comes in the form of an ad on television, billboards, or flyers, getting the word out is important for you to increase profit and bring in new customers. But have you considered trying vehicle wraps? Here are some of the ways that vehicle wrap advertising can benefit your business.
Good ROI
Vehicle wraps are a good return on investment (ROI) because they make it easier to earn compared to other forms of advertisement. When you think about the cost of advertising for your business, a lot of expenses can add up over time. By contrast, the great thing about vehicle wraps is that you only have to pay for them once, and they continue to work for you. Vehicle wraps are durable and long-lasting, and they are comparatively cost-effective. They will quickly start paying for themselves in the amount of revenue increase from the people who do business with you because of them.
Mobile Marketing
The reason why vehicle wraps are so effective in advertising is that they take the marketing wherever they go. Whether they are on the highway, stuck in traffic, or just going around the corner for a short errand, people are guaranteed to notice them. You don't have to worry about whether or not customers will tune into the right channel at the right time on TV because vehicle wraps never stop working to advertise your company. People appreciate the non-intrusive advertising of vehicle wraps and are more likely to be interested in your business because they aren't having something shoved in their faces like the competition.
Practical Benefits
Vehicle wraps aren't just for looking pretty and sporting your company name and phone number. Did you know that a vehicle wrap can protect the finish of your vehicle? The vinyl wraps are thick enough to resist scratching, which means that they will keep your car's paint job underneath looking good.
Contact Brand It Wrap It Today
If you are looking for a cool custom way to decorate your vehicle or advertise your business, make sure to check out Brand It, Wrap It, Custom Signs and Vehicle Graphics. We are a full-service sign and wrap company that provides excellent quality signage for businesses both big and small throughout the Maryland, Virginia, and Washington, D.C. metro area. We provide awesome customer service, use the best and latest sign printing technology, and pride ourselves on our attention to detail. To see how we can help your business shine, give us a call at 301-838-9727 or visit us online for an estimate. For more tips and articles like this, follow us on Facebook, Twitter, Pinterest, and Instagram.