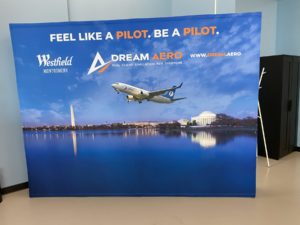 One of the best ways to make your business brand pop is with interior graphics like wall wraps. And wall wraps work best when they are designed to catch the eye. Here are some creative and artistic design ideas to help your wall wraps stand out.
Brand Image
With any type of advertising, you should start by thinking about your company and its brand. Think about the message you want to portray to your customers. By focusing on your unique brand identity, you will have the foundation for an original and creative design to feature on your wall. That way, all the customers and clients that walk through your doors can understand that your business is more than just another storefront. It's a brand. Customers surely appreciate a company with a distinct brand image.
Core Statements
Every successful business has core statements, whether that includes a catchy tagline or a full mission statement. By incorporating both text and images into your wall wrap, you can make a meaningful impact on anyone who passes it. Your employees who see it day after day can be subtly motivated to do their best work. And of course, your company message will reach out to customers and let them know what your business is about. In other words, there are a ton of ways that a well-designed wall wrap can help boost loyalty with your business. 
Interactive Mural
Lastly, if you want to fully embrace the space that your wall offers, you can cover it with a complete mural. This is a bold approach, and this unique spin on the wall wrap and has become a widespread use of wall wraps in businesses. You can add a full spread timeline of your company history, for example, that encourages customers to follow along with the image. A wall mural is a great entertaining feature that can also inform people about your company.
Contact Brand It Wrap It Today
If you are looking for a cool custom way to decorate your vehicle or advertise your business, make sure to check out Brand It, Wrap It, Custom Signs and Vehicle Graphics. We are a full-service sign and wrap company that provides excellent quality signage for businesses both big and small throughout the Maryland, Virginia, and Washington, D.C. metro area. We provide awesome customer service, use the best and latest sign printing technology, and pride ourselves on our attention to detail. To see how we can help your business shine, give us a call at 301-838-9727 or visit us online for an estimate. For more tips and articles like this, follow us on Facebook, Twitter, Pinterest, and Instagram.