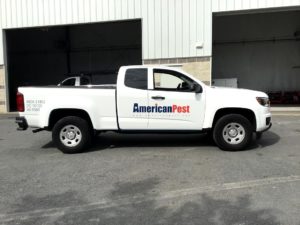 No matter what kind of vehicle you have for your business, vehicle letters can be the perfect choice for advertising. It's a great way to ease into getting a vehicle wrap or as an alternative if a full wrap isn't the best fit for your vehicle. With these three steps, you will have the tools to design the right vehicle lettering for your business.
Step 1: Choose Color Wisely
The main thing that will make your vehicle lettering catch someone's eye is the color. It's great to go bold and bright, but that's not all there is to it. Make sure that the color you choose has a good level of contrast so that you know it can be seen. If you have a black vehicle, it won't make sense to use dark-colored lettering that might blend in. 
Step 2: Make it Easy-to-Read
In addition to color, the type of font that you use for your vehicle lettering plays a role in how easy it is to read. The best fonts to use for vehicle lettering are typeset rather than cursive or script fonts. Think along the lines of Arial and Times New Roman fonts. When you are on the road, you want people to be able to understand the name of your company even with a quick glance as you pass by.
Step 3: Add an Image
Vehicle lettering on its own is good, but it might look plain and boring. That's why it's a great idea to add a picture beside it to make it stand out. There's no need to go overboard, and bright, simple colors work better than a busy pattern or a photo. If you want your vehicle lettering to look clean and professional, then simply adding your company logo will be enough.
Contact Brand It Wrap It Today!
If you are looking for a cool custom way to advertise your business, make sure to check out Brand It, Wrap It, Custom Signs and Vehicle Graphics. We are a full-service sign and wrap company that provides excellent quality signage for businesses both big and small throughout the Maryland, Virginia, and Washington, D.C. metro area. We provide awesome customer service, use the best and latest sign printing technology, and pride ourselves on our attention to detail. To see how we can help your business shine, give us a call at 301-838-9727 or visit us online for an estimate. For more tips and articles like this, follow us on Facebook, Twitter, Pinterest, and Instagram.