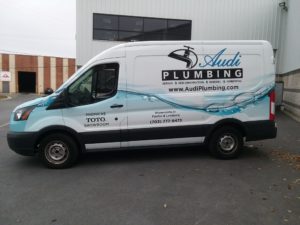 For years now, the idea that a piece of food dropped on the floor would be germ-free if picked up in under five seconds has been debunked. So, there's a new, far more useful, five-second rule in town that applies to advertising with vehicle graphics. When you're vehicle graphics are on the road, there are several reasons why it only has five seconds at most for the marketing to take effect.
They Go By Fast
When you have put a lot of time and thought into designing your vehicle graphic, then it is easy for you to spot the important details, like locating your company's phone number for example. But keep in mind that on the road your vehicle will be going an average of 60 miles on the highway. Most people will only have enough time to notice that your vehicle has interesting graphics, but they might not get the chance to fully take it in. So it's a good idea to think about having one key piece of information stand out so that people can remember and look up your business later.
So Many Distractions
Generally, the average attention span has shrunk as people are overwhelmed with information, and especially advertisements wherever they go. And if someone is sharing the highway with one of your fleet vehicles, then they are probably concentrating on where they're going. That said, it's good to have safety in mind when designing a vehicle wrap that has information that will be easy to take in quickly. Distracted driving is a big problem with people trying to multitask on the road. You wouldn't want to have a long or difficult to read message on your vehicle wrap so that people who do try to read it take their focus off of driving for too long.
How To
Now that you have some considerations in mind, the key is to figure out how to design a vehicle graphic that fits under the five second rule. You can start by asking a professional graphic designer who's had plenty of experience in vehicle graphics. They'll be able to tell you what works and what doesn't. Other than that, the best thing you can do is keep it simple and bold. Have just a couple contrasting colors, a short piece of information in easy-to-read font about what your business is and how to reach you, and your logo is all you really need successfully catch the attention of future customers.
Contact Brand It Wrap It Today for Your Wall Graphics!
If you are looking for a cool custom way to advertise your business, make sure to check out Brand It, Wrap It, Custom Signs and Vehicle Graphics. We are a full-service sign and wrap company that provides excellent quality signage for businesses both big and small throughout the Maryland, Virginia, and Washington, D.C. metro area. We provide awesome customer service, use the best and latest sign printing technology, and pride ourselves on our attention to detail. To see how we can help your business shine, give us a call at 301-838-9727 or visit us online for an estimate. For more tips and articles like this, follow us on Facebook, Twitter, Pinterest, and Instagram.