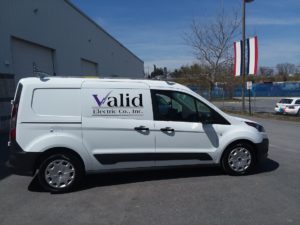 You may have considered vehicle wraps as a means of increasing brand power—we already know that wraps can be a great way to promote brand recognition and build customer trust. A well-designed company vehicle will help differentiate your brand. While there are plenty of different methods when it comes to styling your commercial vehicle, one of the most cost-effective and efficient ways to boost your brand is with a partial vehicle wrap.
Strengthen Your Brand Identity
Commercial graphics are a crucial part of your branding strategy. In order to get people talking about your business, a recognizable image is a must. Vehicle wraps communicate the most important aspects of your business and build local brand awareness, making them an extremely effective form of local advertising. Customers are more likely to support your business if they believe it is legitimate and trustworthy. A partial vehicle wrap, complete with a professionally designed logo and marketing message, will help build a stronger reputation for your business.
…Without Breaking the Bank
Partial vehicle wraps are a less expensive choice than full wraps, making them a great choice for business owners on a budget, or for smaller companies that only utilize a few commercial vehicles. A partial wrap will incorporate the original color of your vehicle into a vinyl design, which covers only a portion of the vehicle. Since partial vehicle wraps only cover 25-75% of your vehicle, they use less material than a full wrap and will cost you less as a result.
Maintain the Resale Value of Your Vehicle
You may have noticed that fleets of commercial vehicles often share a uniform paint job. The downside to a custom paint job, however, is that it greatly diminishes the resale value of the vehicle. Vehicle wraps, on the other hand, are entirely removable. What's more, they can actually protect your vehicle—high-quality vinyl will shield the surface of the car from scratches and any additional cosmetic damage. A partial vehicle wrap will preserve the resale value of your commercial vehicle, making it a smart and cost-effective alternative to a custom paint job.
Contact Brand It Wrap It Today for Your Vehicle Wrap!
If you are looking for a cool custom way to decorate your vehicle or advertise your business, make sure to check out Brand It, Wrap It, Custom Signs and Vehicle Graphics. We are a full-service sign and wrap company that provides excellent quality signage for businesses both big and small throughout the Maryland, Virginia, and Washington, D.C. metro area. We provide awesome customer service, use the best and latest sign printing technology, and pride ourselves on our attention to detail. To see how we can help your business shine, give us a call at 301-838-9727 or visit us online for an estimate. For more tips and articles like this, follow us on Facebook, Twitter, Google+ Pinterest, and Instagram.