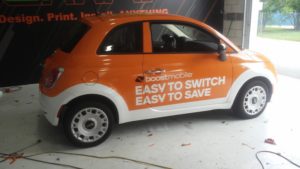 One of the best ways that you can spread the word about your business is through a vehicle wrap. Vehicle wraps take advertisement wherever they go and they can protect your car as well. In particular, there are three types of commercial vehicles that are a perfect fit for vehicle wraps.
Service Vehicles
For small businesses all the way up to major corporations, it's a necessity to have a reliable vehicle if your business brings its service to the customers. Plumbing, construction, and electric companies, for example, often have everything they need in a service vehicle. So why not cement this identity with a vehicle wrap? You would be surprised at how effective it is, especially since service companies get a large percentage of their customers by word of mouth. If a person sees your van at their neighbor's house and you have a vehicle wrap with your information on it, then they are very likely to remember you if they ever need that service for their home.
Fleet Vehicles
Nothing ties together a company identity quite like the uniformity of vehicle wraps for your company vehicles. They're great especially for large commercial trucks because of the sheer size. All of the space on a commercial truck is advertising potential, and a vehicle wrap makes sure that that doesn't go to waste. Your fleet vehicles can work just like traveling billboards, bringing word of your company around the country.
Food Trucks
Sometimes, food trucks can be overlooked, and it is tough to be successful in this business. Food truck owners often need to work extra hard just to prove their credibility. That is why a vehicle wrap will go a long way to making a food truck successful. Vehicle wraps are customizable, so you can come up with any design to stand out on the road and get people excited to come. Plus, vehicle wraps make a food truck look clean, polished and professional, which is an immediate boost to credibility.
Contact Brand It Wrap It Today!
If you are looking for a cool custom way to advertise your business, make sure to check out Brand It, Wrap It, Custom Signs and Vehicle Graphics. We are a full-service sign and wrap company that provides excellent quality signage for businesses both big and small throughout the Maryland, Virginia, and Washington, D.C. metro area. We provide awesome customer service, use the best and latest sign printing technology, and pride ourselves on our attention to detail. To see how we can help your business shine, give us a call at 301-838-9727 or visit us online for an estimate. For more tips and articles like this, follow us on Facebook, Twitter, Pinterest, and Instagram.