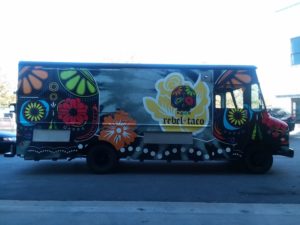 The most important thing about your food truck is definitely the food, but the way it looks is a close second. No one want to walk up to a restaurant that is dirty and run down. The same is true of food trucks. The outside of your truck provides the first impression and you want it to be a good one. A vehicle wrap is a great way to achieve that good first impression and drive customer traffic to your food truck.
Cost Effective
You want your food truck to look nice, so most people will have two options. The first is to paint the truck. This is actually a very expensive and time consuming process. Painting a food truck often costs between $1000 and $3000 dollars without any intricate design work. While a full wrap often costs more, the wrap is an investment that allows for a much more detailed level of design, which would cost much more in paint, if it could be achieved at all. Wraps also preserves the surface of the truck better than paint and they can be easily removed. This means that you truck may fetch a higher resale value if you ever sell it because the new owner won't have to repaint it.
Highly Durable
Vehicle wraps are also very tough and strong. This durability means that their cost is traded off with a long lifespan, often longer than paint. They also often come with warranties, which a paint job will not. Finally if you're worried that the wrap will be more complicated to maintain than paint, don't. Vehicle wraps are very easy to care for.
Impactful Design
Wraps have been shown to be the second most impactful form among advertising after tv commercials. They allow you to advertise your brand and product everywhere you go (especially if each of your vehicles has the same wrap) all over your market for a onetime cost. When you work with a professional designer to create a wrap that speaks to your brand, that wrap becomes an ad that pays for itself.
Visual Appeal
Humans are driven by visual appeal. When given two otherwise equal choices, we will always choose the prettier option. A vehicle wrap offers more beauty, and customization than paint. It offers incredible detail and a range of colors to capture your exact message and style, so your truck catches people's eyes and draws them in.
Contact Brand It Wrap It Today!
If you are looking for a cool custom way to advertise your business, make sure to check out Brand It, Wrap It, Custom Signs and Vehicle Graphics. We are a full-service sign and wrap company that provides excellent quality signage for businesses both big and small throughout the Maryland, Virginia, and Washington, D.C. metro area. We provide awesome customer service, use the best and latest sign printing technology, and pride ourselves on our attention to detail. To see how we can help your business shine, give us a call at 301-838-9727 or visit us online for an estimate. For more tips and articles like this, follow us on Facebook, Twitter, Pinterest, and Instagram.