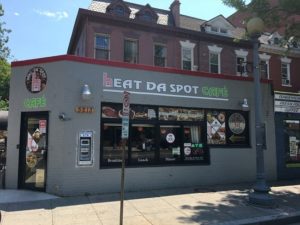 The outside of your building is a huge part of your brand and your customer experience. The building, and the various signage that you choose, is often the first thing a person sees, either as they are approaching it because your business is their destination or simply as they are passing by and it catches their eye. You want everything on the outside of the building to align with and amplify your brand. However, for many businesses, there is a huge blank space on the building that is truly a missed marketing opportunity: the windows. Window graphics are a great way to promote your business, build your brand, and connect with customers.
Connect With Passers-by
As people walk by your business, the graphics you have in the window could be enough to pull them in. They should be able to determine things about your business without actually coming in the door, such as your industry and possibly your brand personality. Window graphics that are bright, colorful, and eye-catching will make it easier for those people who notice you as you walk by to remember your business.
Have an Eye-Catching Message
Unique and eye-catching window graphics are a great way to showcase the personality of your brand. They could be a space to tell the story of your brand or a space to highlight issues that your brand supports (such as fair trade). Use the window space as a canvas to communicate things to potential customers that they might not get through just your name and logo. 
Highlight Information
Any information that you want people to have access to as they approach your business or you want them to be able to access after hours can be displayed on your windows. This could include store hours, upcoming sales or events, and even your website and contact information. 
Be Memorable And Stand Out
Interesting window graphics are also a great way to stand out from the competition. They could be as simple as your name and logo or as complicated as a commissioned piece of art, but having the visual piece at eye-level will give customers something to connect with as soon as they look at your store.
Contact Brand It Wrap It Today
If you are looking for a cool custom way to decorate your vehicle or advertise your business, make sure to check out Brand It, Wrap It, Custom Signs and Vehicle Graphics. We are a full-service sign and wrap company that provides excellent quality signage for businesses both big and small throughout the Maryland, Virginia, and Washington, D.C. metro area. We provide awesome customer service, use the best and latest sign printing technology, and pride ourselves on our attention to detail. To see how we can help your business shine, give us a call at 301-838-9727 or visit us online for an estimate. For more tips and articles like this, follow us on Facebook, Twitter, Pinterest, and Instagram.