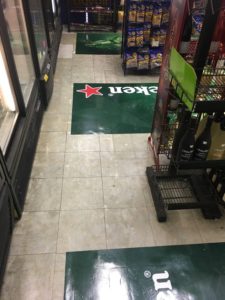 Interior graphics can go a long way in bringing profit to your business. And if you aren't sure how well floor graphics can contribute to your business, then you might be surprised to know that they are very valuable. Here are some of the ways that floor graphics can profit your business.
Branding & Promotion
Even though floor graphics aren't at eye level to your customer, they are a surprisingly effective branding tool. Your floor is untapped real estate that you should take advantage of. You can use them to highlight seasonal promotions. As for branding, when a customer steps into your store, they will be more likely to remember your brand if you can incorporate your logo and company image through floor graphics.
Directions
Floor graphics can also be great for practical uses. Floor graphics are perfect for marking directions. Especially if you have a large building, you can guide customers with arrows on the floor, as well as mark hazards and places they should not go for their safety. Especially for hazards, like a step, sometimes, people don't notice a warning on a sign, but putting floor graphics right on the hazard means it's impossible to trip.
Contact Brand It Wrap It Today for Your Floor Graphics
If you are looking for a cool custom way to decorate your vehicle or advertise your business, make sure to check out Brand It, Wrap It, Custom Signs and Vehicle Graphics. We are a full-service sign and wrap company that provides excellent quality signage for businesses both big and small throughout the Maryland, Virginia, and Washington, D.C. metro area. We provide awesome customer service, use the best and latest sign printing technology, and pride ourselves on our attention to detail. To see how we can help your business shine, give us a call at 301-838-9727 or visit us online for an estimate. For more tips and articles like this, follow us on Facebook, Twitter, Pinterest, and Instagram.