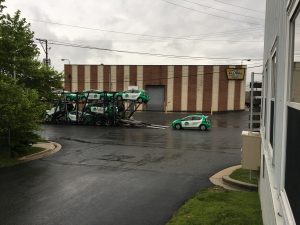 As a fleet owner, you probably know how much vehicle wraps can boost your business through advertising. But there are several things to consider before you take the plunge. Here are the things to keep in mind when you get ready to invest in fleet wraps.
Schedule
One things that fleet owners might forget is that the vehicles they have wrapped will be out of commission for a short time. That said, you want to make sure that you coordinate the timing and logistics of delivering several vehicles to be wrapped. You won't want to make the mistake of getting all of your fleet done at once so that you won't have the vehicles you need for work.
Design
Since fleet wraps are a big investment, you want to take extra care that the design conveys exactly what you want. Talk to a professional about designing your logo if you don't have one. And make sure that you have the right amount of text in a size and font that's easy to read. Just remember, you won't want to be dissatisfied with how the wrap looks after everything is said and done.
The Job
Finally, you want to make sure that you trust a company that can handle large-scale wrap jobs such as for multiple fleet wraps. Look for someone who has experience and consistency in applying vehicle wraps. Once you find the right company to match your needs, you will save yourself a lot of time, money and headaches in the long run.
Contact Brand It Wrap It Today!
If you are looking for a cool custom way to advertise your business, make sure to check out Brand It, Wrap It, Custom Signs and Vehicle Graphics. We are a full-service sign and wrap company that provides excellent quality signage for businesses both big and small throughout the Maryland, Virginia, and Washington, D.C. metro area. We provide awesome customer service, use the best and latest sign printing technology, and pride ourselves on our attention to detail. To see how we can help your business shine, give us a call at 301-838-9727 or visit us online for an estimate. For more tips and articles like this, follow us on Facebook, Twitter, Pinterest, and Instagram.