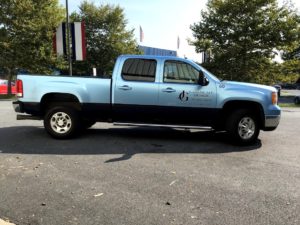 A great investment for your business are vehicle wraps. Adding vehicle wraps to your fleet vehicles is like putting a billboard for your company anywhere you go on the road. But if you have never designed a vehicle wrap, then the process might seem intimidating. Follow these steps to help you get on the right foot.
Vehicle Type
The first thing that you have to consider is what kind of vehicle you want to wrap. The process of wrapping will be a little different depending on the shape and size as well as the function of your vehicle. You want to make sure that your wrap design compliments your vehicle in the best way. For example, you need to make your design fill the space for a large van and for a smaller car you wouldn't want the same exact design because it might overwhelm it. If you have a vehicle with a special function, such as a food truck, then you will need to consider the placement of your logo and message so that it won't be covered when you open the door during business.
Find Your Inspiration
When you are designing any type of branding for the first time, then you need to think about how you want to portray your business. It's a good idea to think of what inspires the theme of your business and carry that inspiration over visually. You can look at different design trends of vehicle wraps to help you get started. Alternately, you can think about ways to reflect your company's color scheme in your design.
Showcase Your Business
Above all else, the point of vehicle wraps is to promote your business. When you are thinking about design, always ask yourself whether certain choices will draw customers in or alienate and confuse them. If you already have the perfect logo, then don't change it up too much when you add it to your vehicle wrap design. Also, you can take elements of your company mission statement or your catchy slogan and put those front and center.
Contact Brand It Wrap It Today for Your Vehicle Wrap!
If you are looking for a cool custom way to advertise your business, make sure to check out Brand It, Wrap It, Custom Signs and Vehicle Graphics. We are a full-service sign and wrap company that provides excellent quality signage for businesses both big and small throughout the Maryland, Virginia, and Washington, D.C. metro area. We provide awesome customer service, use the best and latest sign printing technology, and pride ourselves on our attention to detail. To see how we can help your business shine, give us a call at 301-838-9727 or visit us online for an estimate. For more tips and articles like this, follow us on Facebook, Twitter, Pinterest, and Instagram.