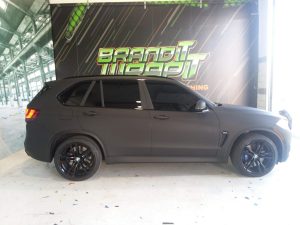 When it comes to designing your vehicle wrap, you have so many options in not just the color but the type of wrap to fit your preference. And one category that will influence the look of your wrap the most is the type of finish that you choose. The three main types include matte, satin, and glossy. Here is what you need to know to help you make your choice.
What is the Difference?
These three finishes for vehicle wraps range in shine level from a dull finish, which is matte, to the shiny gloss finish and satin which somewhere in between. The matte finish might be dull compared to glossy, but it is certainly not boring. The flat look of the matte finish actually emphasizes the curves of your vehicle. Because of this, you might see matte becoming more popular. Glossy finish, by contrast, is the most common finish because it looks the most similar to a traditional paint job. The satin finish is a more rare look because it is at the midway point between matte and glossy. Although it can range in levels of luster, satin finishes are usually closer on the matte side with a bit of shine.
Which to Choose?
One of the ways to help you decide what type of luster to choose for your vehicle wrap is to think of color. For example, the difference between silver and gray is the level of shine on a car. You can also compare your vehicle online to see what other people have picked for their wraps, and decide if you want to keep up with the style or do something different. Alternatively, the satin finish can give you the best of both worlds between trendy and different versus classic.
Contact Brand It Wrap It Today!
If you are looking for a cool custom way to advertise your business, make sure to check out Brand It, Wrap It, Custom Signs and Vehicle Graphics. We are a full-service sign and wrap company that provides excellent quality signage for businesses both big and small throughout the Maryland, Virginia, and Washington, D.C. metro area. We provide awesome customer service, use the best and latest sign printing technology, and pride ourselves on our attention to detail. To see how we can help your business shine, give us a call at 301-838-9727 or visit us online for an estimate. For more tips and articles like this, follow us on Facebook, Twitter, Pinterest, and Instagram.