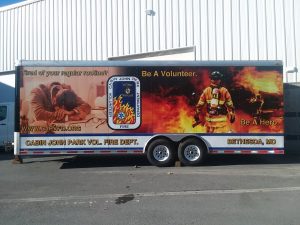 If you run a small business from your mobile trailer or have this vehicle as a part of your larger company, then getting a vehicle wrap is a great way to protect it and advertise your business. And you might wonder how much different a vehicle wrap is for a mobile trailer. Well, we're here to give you the basics.
Full Wrap
It is recommended to get a full vehicle wrap for your mobile trailer for a few reasons. First, a full vehicle wrap offers the best protection to keep your vehicle's paint job from chipping and rusting. Especially for larger vehicles, where you can't reach every spot by washing, this is a great advantage. Also, when you are designing your vehicle wrap, having a full wrap lets you take full advantage of size for featuring your company's logo, and even longer segments of text than you would be able to do on a smaller wrap.
Measurement is Key
Another important aspect of designing your mobile trailer wrap is to make sure that all of your measurements are perfect. Mobile trailers come in a lot of shapes and sizes, and there are not as many standards as they would be for typical fleet wraps. So thorough and exact measurements are the most important part of having a wrap that looks clean and professional.
Vehicle Condition
Before you start the process of getting a wrap for your mobile trailer, you should make sure that it is in the right condition. If need be, hire a professional to inspect it to see if it meets road safety standards. Also, make sure that you check every surface for rust, dents, or even excess paint that could prevent a vehicle wrap from adhering properly. You want to avoid going to the trouble of preparing and applying a vehicle wrap if it won't be able to last.
Contact Brand It Wrap It Today!
If you are looking for a cool custom way to advertise your business, make sure to check out Brand It, Wrap It, Custom Signs and Vehicle Graphics. We are a full-service sign and wrap company that provides excellent quality signage for businesses both big and small throughout the Maryland, Virginia, and Washington, D.C. metro area. We provide awesome customer service, use the best and latest sign printing technology, and pride ourselves on our attention to detail. To see how we can help your business shine, give us a call at 301-838-9727 or visit us online for an estimate. For more tips and articles like this, follow us on Facebook, Twitter, Pinterest, and Instagram.