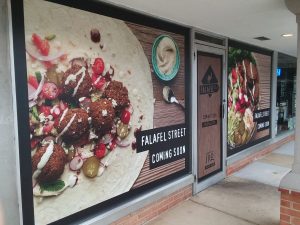 It can be especially difficult for a small business to create a presence through advertising. For this reason, commercial graphics can really give your small business an edge. Here are a few reasons that you should invest in commercial graphics for your small business.
Make an Impression
When you present your brand in a way that can grab a person's attention it creates a memorable first impression. And first impressions are incredibly powerful, people who see the professional look of commercial graphics will take your company seriously instead of seeing it as just a "small business." And it's important to stick in someone's memory especially when they have so many advertisements thrown at them every day. All it takes is an eye-catching logo and memorable slogan and with commercial graphics you can put it anywhere that is the most visible, from walls to windows and even floors.
Tell Your Story
At the root of it, your business's brand is your story. You have to convey what your company is about and what you hope to bring to customers in an easy to understand package. And commercial graphics are the perfect way to wrap up your brand in an impactful image. When you design your brand logo to reflect your business's mission and values, then it's easy to help people get a deeper idea of your business at a glance. People naturally connect to stories, and commercial graphics can help you bring your story to them.
Return on Investment
The biggest benefit of commercial graphics is that they always promise a great return on investment. While it might cost a little extra money up front, you can't put a price on the amount people that your brand could reach, and the eyes that will see your logo. The value of advertisement, just by word or mouth, that you can get from commercial graphics is more than worth it. You can even put your company graphics on something small and functional like a pen that you can get in bulk for a low price so that people will be happy to take word of your business with them.
Contact Brand It Wrap It Today!
If you are looking for a cool custom way to advertise your business, make sure to check out Brand It, Wrap It, Custom Signs and Vehicle Graphics. We are a full-service sign and wrap company that provides excellent quality signage for businesses both big and small throughout the Maryland, Virginia, and Washington, D.C. metro area. We provide awesome customer service, use the best and latest sign printing technology, and pride ourselves on our attention to detail. To see how we can help your business shine, give us a call at 301-838-9727 or visit us online for an estimate. For more tips and articles like this, follow us on Facebook, Twitter, Pinterest, and Instagram.