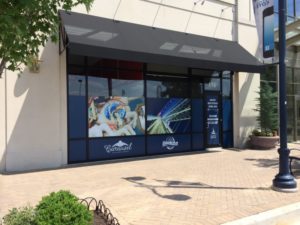 You see them everywhere: perforated window graphics allow businesses to plaster advertisements and branding images to their windows and glass doors without completely shutting out natural light. By using special vinyl window graphics, these images can appear totally opaque from the outside while transparent on the inside. You'll often see these in mall storefronts, commercial glass doors, and even bus windows. But the one-way visibility of a vinyl window graphic can seem complicated to design or hard to apply. So how exactly do perforated window graphics work?
What is Perforated Vinyl?
Perforated vinyl is actually quite simple. By cutting patterns of tiny holes across the entire window graphic, a lot of the material is actually removed, leaving room for light to pass through the graphic while appearing opaque from the outside. Your eye perceives this image as opaque due to the brightness of the light that hits the outside of the vinyl wrap. On the other hand, customers or employees on the other side of the window graphic see the darkly colored inside of the vinyl, allowing their eyes to focus on the light passing through the many holes. This allows people on the inside to see through the design to the world outside.
Advantages of Perforated Vinyl
One major advantage of using perforated vinyl window graphics is the versatility of vinyl graphics. They can be swapped out quickly and easily, allowing you to switch up your signage to keep up with the seasons, new sales, or even your ever-evolving brand. Plus, perforated vinyl allows you to reduce harsh natural light in your business. By darkening the light passing through your windows, you can reduce glare and exposure to potentially harmful ultraviolet rays. Plus, dimmed windows can make a big difference for energy bills in the warmer months!
Designing a Perforated Window Graphic
Designing a perforated window graphic can be tricky, since you need to trick the eye to see the graphic from the outside, while seeing through it from the inside. In order to avoid seeing holes on the inside, you want to make sure the design is brighter than the empty space behind the sign. Avoid large areas of dark colors like black, dark blue, and purple. It's also a good idea to avoid small fonts or especially intricate detail in your perforated vinyl window graphic, since a large portion of the sign is actually missing, and this can cause you to lose smaller details. Keep it simple and bright!
Brand It Wrap It
Brand It Wrap It, Custom Signs and Vehicle Graphics is a full-service sign and wrap company committed to providing high quality affordable indoor/outdoor custom signage and vehicle graphic solutions to businesses of all sizes in Rockville, Maryland, Virginia, the Washington DC Metro community and nationwide.
Exceptional customer service, the latest technology, attention to detail, quality products, competitive pricing has proven to be our greatest asset.
Our goal is to exceed your expectations and produce effective custom signage that helps you promote your company's image, attracts new customers, delivers your message, and gives your corporate image a creative edge.