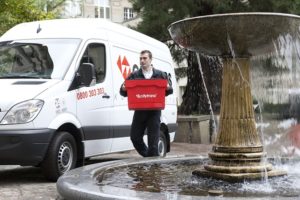 Vehicle lettering is a simple and convenient way to start advertising your business on your company vehicle. But it can be easy to miss out on the full potential of vehicle lettering. As long as you take care of these elements, your vehicle lettering is sure to get your message across.
Readability
The last thing you want to do is invest time and money in getting vehicle lettering that potential customers won't be able to read. One way to make sure that your vehicle lettering is easy to read is to use the right fonts. As attractive as those script or handwriting-style fonts are, they are hard to decipher when your car is going by on the road. Stick with plain, straight fonts that contrast against the background.
Color
The color you choose is important in helping your vehicle lettering stand out in a good way. Remember to think of contrast. Darker letters against a light background or light colors on a dark background are the easiest to read. If you want to do bright neon colors, only use them for short segments, like your company name. A long block of text in bright colors becomes tiring on the eyes.
Logo
One of the most important parts of making your vehicle lettering stand out is not just the letters themselves. Having your company logo on your vehicle is what will catch people's eye and get them to read the rest of your vehicle lettering. Most people tend to notice pictures more than words, so if your vehicle just has text on it then a driver or passerby might unintentionally filter it out.
Contact Brand It Wrap It Today!
If you are looking for a cool custom way to advertise your business, make sure to check out Brand It, Wrap It, Custom Signs and Vehicle Graphics. We are a full-service sign and wrap company that provides excellent quality signage for businesses both big and small throughout the Maryland, Virginia, and Washington, D.C. metro area. We provide awesome customer service, use the best and latest sign printing technology, and pride ourselves on our attention to detail. To see how we can help your business shine, give us a call at 301-838-9727 or visit us online for an estimate. For more tips and articles like this, follow us on Facebook, Twitter, Pinterest, and Instagram.