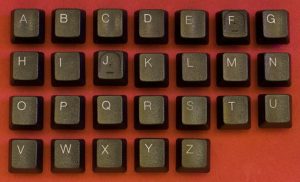 Have you considered how your typeface can affect your brand? The font you choose for your products and designs can have a surprising impact on how your customers respond. However, there are many legal factors to consider before you start using any font or typeface you want. To help you get a better understanding, today we'll be walking you through some of the basics. 
What are Typefaces vs. Fonts? 
One of the first things you need to know is that there is a difference between a typeface and a font. In short, a font is what we call a computer program that determines the ways in which characters and letters appear in graphically designed media. A typeface, on the other hand, is the design elements used in a consistent manner that create a unique font. For example, Times is one of the most common typefaces, while Times Bold is a font. 
Licensing 
Some fonts are available for free or maybe licensed for a fee or for specific commercial use. Depending on the size of your business and the distribution of your materials, you may find that you will need to verify usage before choosing your font. There are often different licensing rules for media used for ads versus editorials. There are other agreements and regulations, depending on the creator and usage of the font and typeface. Before you finalize any media, be sure to triple check your usage regulations. 
Copyright Law And Fonts 
Along with understanding your usage rules, you need to be aware of any potential copyright issues as well. In general, typefaces are not protected by copyright law in the U.S. However, this isn't always the case, and there are exceptions to the rule, so never make an assumption. If a font is qualified as a computer program or software (as most are), it is usually protected by copyright. 
Contact Brand It Wrap It Today for Your Commercial Graphics!
If you are looking for a cool custom way to decorate your vehicle or advertise your business, make sure to check out Brand It, Wrap It, Custom Signs and Vehicle Graphics. We are a full-service sign and wrap company that provides excellent quality signage for businesses both big and small throughout the Maryland, Virginia, and Washington, D.C. metro area. We provide awesome customer service, use the best and latest sign printing technology, and pride ourselves on our attention to detail. To see how we can help your business shine, give us a call at 301-838-9727 or visit us online for an estimate. For more tips and articles like this, follow us on Facebook, Twitter, Pinterest, and Instagram.