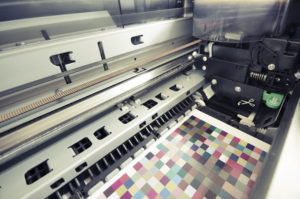 Trends shift all the time when it comes to all sorts of design, however, there are a few that are classic staples that never go out of style. Each serves their own unique purposes. This is as true for interior design as it is for commercial graphics design. From the classic to the high tech to the aesthetically minimal to the big and bright, here is some of what is gonna be big in commercial graphics design in 2017.
Flat 2.0
A flat design uses subtleties in depth, coloration, and motion to make a slim and sleek highly visible interface that is simple to use and understand. It makes web pages load quickly. It is also highly versatile and easy to mix with more intricate and complex design.
Bold and Whimsical Typography
New tools make the creation of fonts far easier than it was before. This makes creating custom dramatic typography a snap. The font Serif is also making a comeback as screens gain higher and higher resolutions. Handwritten fonts also add a practical whimsical touch.
The New Retro
Retro styles are largely inspired by the 80s and 90s. These include inspirations such as classic arcade games. Bold colors, pixel art, and eye-catching whimsical geometric patterns are excellent accents to this fun font.
Motion
Motion makes photos and illustrations sparkle with life. This is accomplished with 2D animation and cinemagraphics. Even a small amount of movement can be enough to jazz up any design with being distracting from your brand.
Minimalism
Minimalism is all over the design world, but how does it apply to commercial graphics design? Well, it plays into flat design and a modern use of negative space for the maximum impact. It often makes use of subtle gradients, kinetic logos, and crisp mono line styles.  
Custom Commercial Graphics Design for Your Business
If you are looking for a cool custom way to advertise your business, make sure to check out Brand It, Wrap It, Custom Signs and Vehicle Graphics. We are a full-service sign and wrap company that provides excellent quality signage for businesses both big and small throughout the Maryland, Virginia, and Washington, D.C. metro area. We provide awesome customer service, use the best and latest sign printing technology, and pride ourselves on our attention to detail. To see how we can help your business shine, give us a call at 301-838-9727 or visit us online for an estimate. For more tips and articles like this, follow us on Facebook, Twitter, Google+ Pinterest, and Instagram.