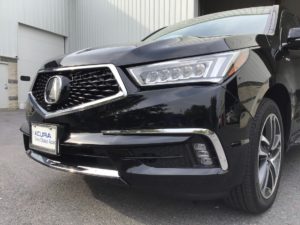 Designing the perfect vehicle wrap is already a tall task. When it comes to advertising your business with vehicle wraps and communicating your brand with the public, it's important to find the right logo design, color combinations, wrap designs, and more. Vehicle wraps are quick and easy to apply to a vehicle, but the right finishing touches make all the difference. One important factor of your vehicle wrap to consider is the finish. There are several finishes to choose from when it comes to designing the perfect vehicle wrap, including gloss, satin, and matte wraps. These terms may be familiar when it comes to paint, but they also apply to vinyl wraps. When it comes to choosing the right luster for your vehicle wrap, here's what you need to know about the different finishes available to you.
Gloss Vehicle Wraps
Gloss vehicle wraps are meant to give the same glossy shine as a coat of paint. This makes glossy finishes very popular for vehicle wraps. Glossy wraps reflect a lot of light and fit right in on the surface of your vehicle.
Matte Vehicle Wraps
Matte wraps are a unique choice for a flat appearance that reflects minimal light. This finish is a great way to set a design apart from the rest. The flat appearance provides a nice contrast to a car's shiny finish that is sure to draw the eye of potential customers.
Metallic Vehicle Wraps
Metallic vehicle wraps are some of the most reflective available. This makes them a great choice if you're looking to really brighten your vehicle wrap by reflecting more light than the average finish. Plus, these wraps aren't just available in traditional "metallic" colors like silver and gold–you can find a metallic finish for just about any color imaginable.
Satin Vehicle Wraps
A satin finish is somewhere between a matte and metallic finish. These wraps are great for reflecting light but offer a less glossy finish than a metallic. This makes them a familiar but unique choice for your next vehicle wrap.
Pearl Vehicle Wraps
Pearl vehicle wraps have a uniquely iridescent finish–much like a pearl. This finish is stylish and elegant for a vehicle wrap that will surely be set apart from the rest.
Contact Brand It Wrap It Today for Your Vehicle Wrap!
If you are looking for a cool custom way to decorate your vehicle or advertise your business, make sure to check out Brand It, Wrap It, Custom Signs and Vehicle Graphics. We are a full-service sign and wrap company that provides excellent quality signage for businesses both big and small throughout the Maryland, Virginia, and Washington, D.C. metro area. We provide awesome customer service, use the best and latest sign printing technology, and pride ourselves on our attention to detail. To see how we can help your business shine, give us a call at 301-838-9727 or visit us online for an estimate. For more tips and articles like this, follow us on Facebook, Twitter, Google+ Pinterest, and Instagram.