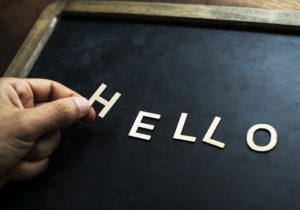 Vinyl lettering serves as a terrific marketing tool that can easily boost the appearance of your storefront. You will soon see that you can benefit in a variety of ways with the use of vinyl lettering. For example, they can save space that is usually consumed by signage and banners. Before fully embracing vinyl lettering, you should keep in mind a few important facts that you need to know when it comes to applying vinyl lettering.
Application Tips
When applying vinyl lettering, you will want to do so properly so it looks nice and will not need replacing or fixing anytime soon. First, squeegee firmly across the transfer tape at a 45-degree angle with overlapping strokes. You will not have to worry about squeegeeing too hard over it. You can apply as much pressure as you want to get the job done, all you want to do is make sure you keep gliding smoothly over the vinyl. Once you finish, make sure you give it enough time to let it set. If you pull off the transfer tape too quickly, you will risk removing the vinyl lettering or creating bubbles.
In Case of Bubbles
If you are new to vinyl lettering or just want to be cautious, it is good to have some tricks ready to get rid of any bubbles in your vinyl lettering. A lot of people tend to use a knife or razor to pop air bubbles, but this will only serve to damage your vinyl lettering. Instead, you should use an air release tool to rid yourself of any unwanted air pockets. If you have multiple air bubbles, you will want to attract them to a single point to make one big bubble. Then, poke only a pin-sized hole and squeeze from the edges of the bubble and towards the puncture.
Transfer Tape
You will be need of transfer tape to get your vinyl lettering from the sheet to your signage. There are two types of transfer tape you can use for your vinyl lettering: clear and paper. Clear transfer tape is usually only used for small, more creative projects like jewelry or ornaments. For signage, however, you will want to utilize paper transfer tape.
Contact Brand It Wrap It Today!
Brand It Wrap It, Custom Signs and Vehicle Graphics is a full-service sign and wrap company committed to providing high quality affordable indoor/outdoor custom signage and vehicle graphics solutions to businesses of all sizes in Rockville, Maryland, Virginia, the Washington DC Metro community and nationwide.
Exceptional customer service, the latest technology, attention to detail, quality products, competitive pricing has proven to be our greatest asset.
Our goal is to exceed your expectations and produce effective custom signage that helps you promote your company's image, attracts new customers, delivers your message, and gives your corporate image a creative edge. Follow us onFacebook, Twitter, Google+, and Pinterest!