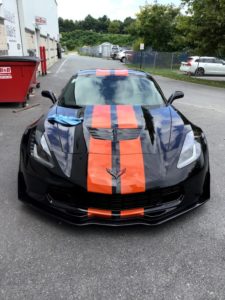 With a color change wrap, you can have the benefit of protecting your vehicle's current paint job while also getting to try out a different color or style. And there are many different choices for color change wrap designs. Below are three of the most popular style choices for color change wraps. 
Glossy
The best choice, if you are new to color change wraps, is to go with the standard glossy finish. It is a popular choice because it looks similar to a traditional paint job. Glossy color change wraps give your car a new, freshly-washed look. It's a great choice even if you'd like to stay with your car's original color but want to brighten up the look.
Matte
The matte finish was a rare choice, but it is starting to grow in popularity. Just like it sounds, a matte color change wrap is the opposite of gloss in the sense that it does not give your vehicle shine. But lack of shine is far from dull. Many people find the velvety look of matte to be interesting and elegant. Because matte isn't universally popular, you are much less likely to find car manufacturers who carry matte paint. A matte color change wrap gives you the opportunity to try out the trend.
Textured
Another unusual option is to use textured wraps to boost the look of your car. You can have the sophisticated look of a carbon fiber finish at a fraction of the cost. Carbon fiber is typically reserved for expensive luxury cars, but a textured color change wrap is an affordable and practical way to fake the look without looking cheap. All in all, color change wraps are a fun and functional addition to any vehicle.
Contact Brand It Wrap It Today for Your Color Change Wrap!
If you are looking for a cool custom way to decorate your vehicle or advertise your business, make sure to check out Brand It, Wrap It, Custom Signs and Vehicle Graphics. We are a full-service sign and wrap company that provides excellent quality signage for businesses both big and small throughout the Maryland, Virginia, and Washington, D.C. metro area. We provide awesome customer service, use the best and latest sign printing technology, and pride ourselves on our attention to detail. To see how we can help your business shine, give us a call at 301-838-9727 or visit us online for an estimate. For more tips and articles like this, follow us on Facebook, Twitter, Pinterest, and Instagram.