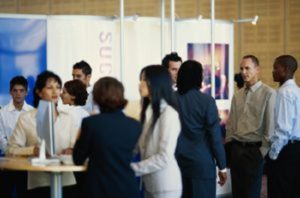 A trade show is an exciting time for your business where you are literally surrounded by opportunities to gain new customers. But when there are so many other company tables and booths at the venue, you have probably put a lot of thought into standing out. Here are some unique branding ideas to help people remember your business.
Banner Design
The first part of having successful interactions at a trade show is attracting people to your booth. You need to make sure that you have signage that will not get lost in the crowd. Contacting a professional is a great idea to talk about trade show banners. Banner stands are a popular go-to, but you can also consider overhead banners that will put your company name and logo front and center. The important thing is to stick with a simple design with bold colors and easy-to-read font and that will make your trade show booth approachable.
Promotional Gifts
Part of the fun of trade shows is having fun little gifts with your business's information on it to hand out to future customers. It's a simple way to give someone a tangible reminder of your business. But often times these would-be party favors turn into a missed opportunity to do something original. Forget about boring pens and tote bags! You can essentially put a logo on any item, which means that now is the time to think of creative gifts that showcase your company. For example, if your business works with cell phones or computers, then you can give away popsockets or little screen wipes that are printed with your logo. If your promotional gift is the right combination of fun and functional then word will spread fast and you'll have people coming to your booth and your business long after the trade show.
Floor Graphics
Hardly anybody thinks about taking advantage of the floor space at a trade show. But it is so easy to incorporate temporary floor graphics into your display, and you will immediately stand out. The space that you rented for the trade show is a valuable resource, and you need to take advantage of every square inch of real estate.
Contact Brand It Wrap It Today!
If you are looking for a cool custom way to advertise your business, make sure to check out Brand It, Wrap It, Custom Signs and Vehicle Graphics. We are a full-service sign and wrap company that provides excellent quality signage for businesses both big and small throughout the Maryland, Virginia, and Washington, D.C. metro area. We provide awesome customer service, use the best and latest sign printing technology, and pride ourselves on our attention to detail. To see how we can help your business shine, give us a call at 301-838-9727 or visit us online for an estimate. For more tips and articles like this, follow us on Facebook, Twitter, Pinterest, and Instagram.